YOUR SAFETY IS OUR PRIORITY!
For those who are limiting social contact, we are taking extra precautions.
We are doing everything we can to help our customers who are limiting social contact amidst the COVID-19 disruptions.
Your safety is our priority, and we also offer remote scheduling and payment!
---
SCHEDULE YOUR MERCEDES SERVICE TODAY
Quickly and easily schedule a day and time for your service.
We offer full Mercedes Service to customers in the San Jose, Fremont, Milpitas, and Gilroy areas. These things should be convenient. You can use our easy online scheduling tool to get your vehicle the service it needs when it works best for you.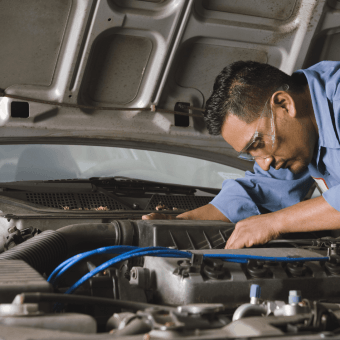 Performance
Modifications
Bring your Mercedes to another level.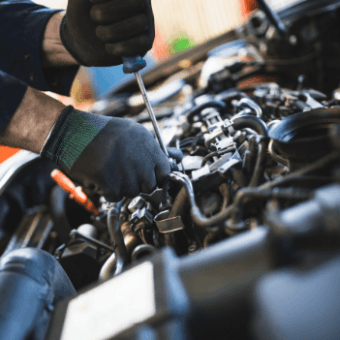 Engine & Chassis
Repair
Let's get you back on the road.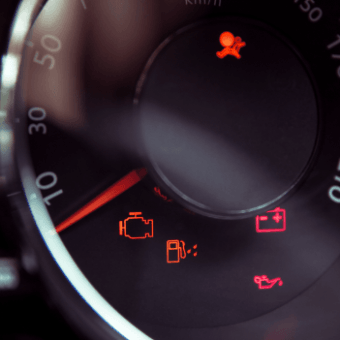 Standard
Maintenance
For keeping your vehicle running like new.
ABOUT OUR MERCEDES BENZ SERVICE EXPERTS
Over 20 years of factory trained experience
We are a San Jose local team of ambitious and skilled Technicians devoted to the concept of maintaining the highest standards of Mercedes-Benz service.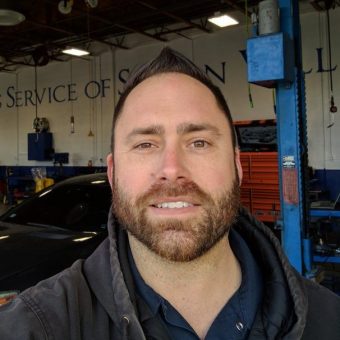 Nick Maranta
//

18 YEARS EXPERIENCE
Owner/Master Mechanic
Nick started Mercedes Service of Silicon Valley in 2016 with the goal of creating a shop that shared his vision and love for Mercedes vehicles. He started with his life's savings and expert certifications and jumped feet first into a lifelong dream.
Mercedes Service of Silicon valley now services more than 2000 loyal customers and is growing every day. When we talk about building lifelong clients, we mean it.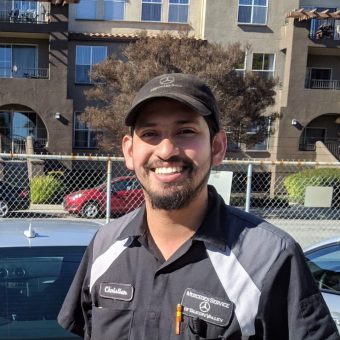 Christian Perez
//

6 YEARS EXPERIENCE
Journeyman Mercedes Mechanic
Like Mercedes, we demand a high level of quality in our work. Christian joined the team shortly after opening and is now the lead in the shop, overseeing all vehicles that come through and making sure they pass our rigorous standards.
Christian Graduated from UTI  in 2012 and has been working in the automotive industry since.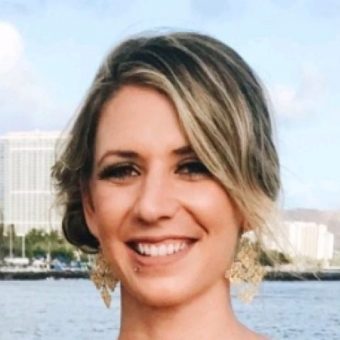 Elizabeth Maranta
//

12 YEARS EXPERIENCE
Service Manager
As MSSV grew, there was a distinct and indisputable need for someone who could put their full attention to the customers needs. That's when Elizabeth came into the picture.
She joins the team with 15 years of experience of customer service experience and helps provide attentive and informed service to our customers.

Standard Maintenance
We follow all Mercedes-Benz factory recommended service intervals and use only OEM parts and fluids for our services and car repairs.

Engine And Chassis Repairs
We have genuine Mercedes diagnostic equipment to perform any and all repairs on all vehicle systems.

Performance Modifications
Looking to upgrade your vehicles performance or style? Ask us about upgrades.
I've had some pretty bad experiences with mechanics but this place was exceptional!!! I let the gas run out on my CL600 (gas gauge wasn't quite on E)and thought my engine was misfiring. Took it in and expected them to take me for all I have. Not a chance. They gassed it up and called me to come pick it up. Also my "AC off" light was on and I thought i might need a new compressor. Nope, they put freon in and just charged me for the Freon. I'd definitely recommend this place.. Thanks Nick
The name pretty much sold it for me being a MB owner, but thats not why i loved this spot. Nick was super professional and seems to love what he does. He was quick to answer any questions and is very knowledgeable. I brought my C350 in for a service B around 4:30 pm before closing time and my car was ready the next morning. All for a VERY low price! Definitely recommend this place to any Mercedes owners for maintenance, repairs, mods, etc.
I went to Mercedes Service of SV because it was so close to my home but after meeting Nick I'd happily drive far away to work with him. He's the owner and head mechanic. It's nice to be greeted with a smile and being given great customer service while knowing that you're working with a guy who's been servicing Mercedes for many years. The service fees are really reasonable too. I had the Service A, brake fluid changed and AT fluid changed expecting to pay double what I paid. Thanks, Nick!
Service completed on time. Very professional. Nick, the owner, is the best. I will return!
I don't think I've met a nicer, more genuine technician/mechanic or business owner than Nick. As a first time Mercedes owner (of not 1, but 2) I am absolutely relieved to have found Mercedes Service of Silicon Valley. Nick has spent hours at this point, out of sheer courtesy, advising me about two preowned E-class Mercedes' that I brought him for pre-inspection. He exudes passion for what he does and he incredibly knowledgeable. I had researched the hell out of these cars for months leading up to when I brought them to Nick, and he was able to speak to everything I'd read about, potential issues, what to look out for, etc. all on the fly. He's a consummate professional, and I have no doubt he could tell you anything you'd want to know about any year and model Benz (and probably any other European car). I haven't spent a dollar at Mercedes Service of Silicon Valley (yet), but I can already tell you they've earned my business. Having a great mechanic is like having a great attorney, you don't realize what you have until sh*t hits the fan-belt =) Easiest five star review I've written. These guys earned it.
**UPDATE**: it's been over a year of taking our car to this location and we still get the most honest and reliable service at an unbeatable price. Every time someone asks us where they should take their Mercedes for service, we still highly recommend this shop! Keep up the great service guys, you're gaining life-time customers.